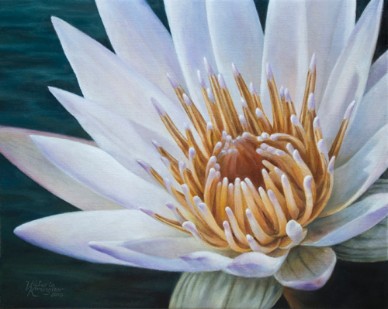 "Water Nymph"
20" x 16"
oil on linen
The scientific name of water lily is Nymphaea. This is obtained from the Greek word 'nymph', which according to Greek mythology means supernatural feminine that inhabited in water bodies like springs. Water lilies are delicate flowers and consist of a multiple number of petals with a golden stamen at its center and is around 5 inches in diameter. The new flower shoots start appearing in the month of April. The blooming actually starts in June and continues till September, on average, a water lily flower lives up to five days.
Original and giclees available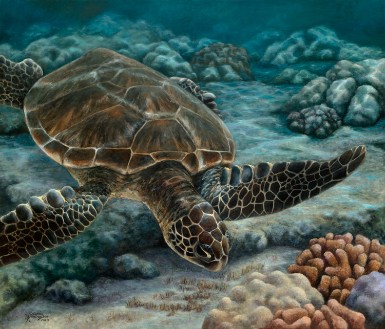 "Finding Limu"
28" x 24" - oil on Belgian linen
Hundreds of years ago, there were many millions of sea turtles swimming the Earth's oceans. Today, the Hawaiian green sea turtle (Honu) is considered endangered. They receive their name from the color of their body fat rather than their shell color. The Honu is an important symbol in the Hawaiian culture, representing protection, longevity and wisdom. Their favorite foraged munchie is "limu" (Hawaiian seaweed) growing underwater around coral reefs and rocks close to shore.

Original and giclees available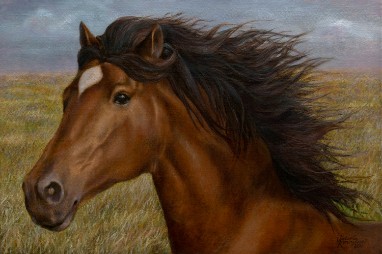 "Windblown Serenity"
24" x 16" - oil on linen
Mankind has enjoyed a unique relationship with the horse. No other animal has provided such intelligent, loyal service or has offered humans his strength and loyalty. In return we have bestowed upon him a status which is perhaps above that of all other animals.
"Windblown Serenity" plays homage to the majestic breed, the Spanish Andalucian, for it's grace, gentle demeanor and noble strength.
Original and giclees available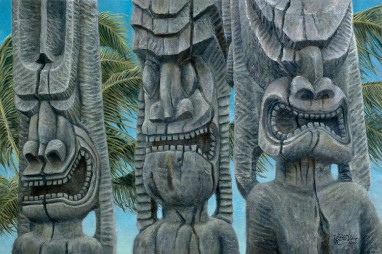 "Ki'i Akua o Honaunau"
(Temple Guardians of Honaunau)
24" x 16" - oil on linen

The Hawaiians honor a multitude of supernatural beings, or
akua
. During religious observances,
akua
often manifested themselves in carved figures or other objects, which served as vessels for their supernatural power
or "
mana"
. Sacred images in human or animal form were known as
ki'i
. These three ki"i are among several temple gods that stand watch over the bones of the Ali'i at the City of Refuge at Pu'uhonua o
Honaunau
Original and giclees available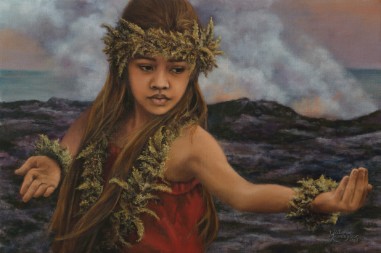 "Kahiko o Kalapana "
24" x 16" - oil on linen
Kalapana is the viewing location of the red glow of lava flowing into the ocean near Volcano National Park on the Big Island of Hawaii.Traditional hula kahiko is usually very focused, vigorous, and requires strength and agility. As part of religious ceremonies, it is danced by groups of specially trained women who illustrate the various accompanying texts (mele), which were chanted by men. The hula kahiko is usually performed standing with symbolically descriptive arm and hand movements.
SOLD
Giclees available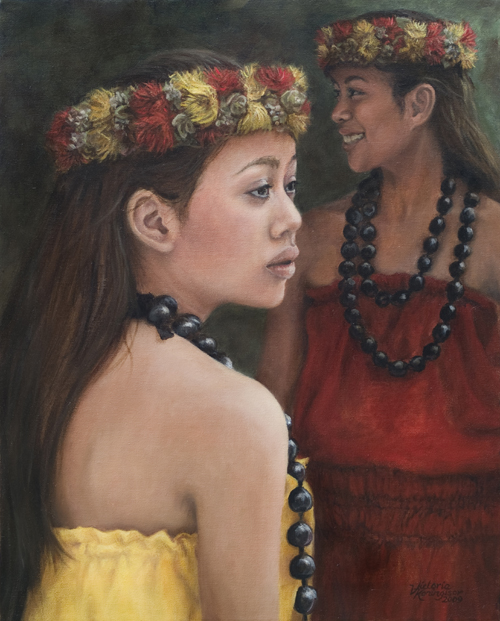 "Wahini Lehua Lei Po'o"
(Girls with crown Lei
of Lehua Flowers)
16" x 20" - oil on canvas
The Hawaiian name lehua, means "hair" and is the flower of the ohi'a tree. These lovely fluffy red and yellow flowers are carefully braided together with other local vegetation and the offical floral representation of the Big Island of Hawai'i . The lie po'o has long been used as a true reflection of the Hawaiian belief of harmony and spirit.

SOLD
Giclees available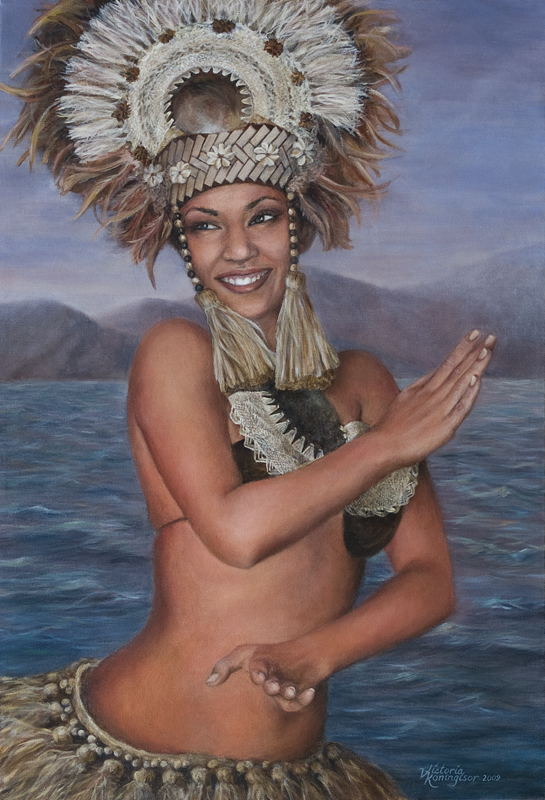 "Tahitian 'Aparima"
(The Kiss of Hands)
20" x 30" - oil on canvas
The 'aparima in hula tells a story, is set to music and mimed by gracious gestures of the hands. The 'aparima is inspired by scenes of the daily life; a boy meeting a girl, a wahine combing her hair, paddlers in an outrigger canoe or description of a beautiful site.
SOLD
Giclees available
. . . . . . . . . . . . . . . . . . . . . . . . . . . . . . . . . . . . . . . . . . . . . . . . . . . . . . . . . . . . . . . . . . .
Koningisor selected for Schaefer Portrait Challenge 2009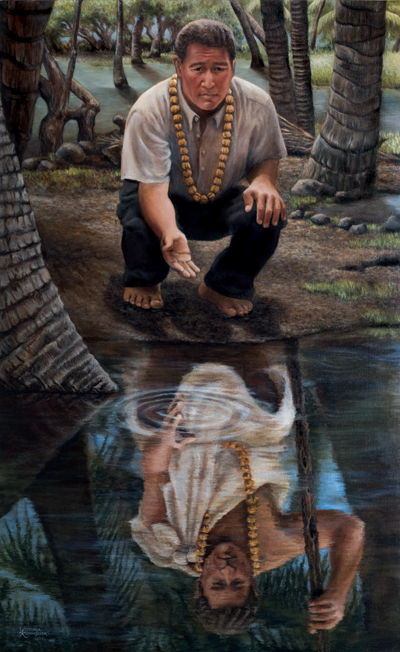 Schaefer Portrait Challenge ("SPC09") is the signature exhibit for the Schaefer International gallery at the Maui Arts & Cultural Center, and has become a prestigious state-wide juried art exhibition with one of the largest awards for a visual arts competition in Hawai'i art history.
The exhibition includes the jury-selected works of 53 artists from all counties of Hawai'i, who have created works of portraiture based on portrait subjects within their communities as well as self-portraits; it is a showcase of outstanding Hawai'i artists and a chronicle of the changing face of our community.
Victoria chose subject Daniel "Kaniela" Kahikina Akaka Jr. as her portrait subject. Daniel is a spiritual leader and staff historian of the Mauna Lani Resort on the Big Island's Kohala coast. "Hoaka" represents an exploration of this modern Hawaiian who has made of himself both a vessel and conduit for a culture that is unmatched in the depth and subtlety of spiritual expression. In the setting of the ancient fish ponds of Kalahuipua'a the Modern Man's hand extends to receive the gifts of the past, while the reflected Ancestral Man reaches across the ages to share his heritage with the future. The shadow links their mana through time, while the circular ripple formed at the extended fingertip of the reflection represents a portal of communication. Daniel, the modern man, responds to this connection as he honors his ancestors.

http://www.mauiarts.org/schaefer_SPC09.html

See MACC Centerpiece article on Schaefer Portrait Challenge 2009 (pages 4-6)